Best IELTS Coaching in Delhi
IELTS Exam preparation Course
A crash course to achieve 8+ IELTS band in the IELTS Exam.
What you get
60 to 130 Hours of Personal Training
12 to 36 Hours of private online classes with an expert trainer
20 Hours of amazing training videos
6 to 10 Practice Tests & 3 to 6 Mock Tests
3 to 8 Weeks course duration
Course Fee: Rs. 7,990 – 19,990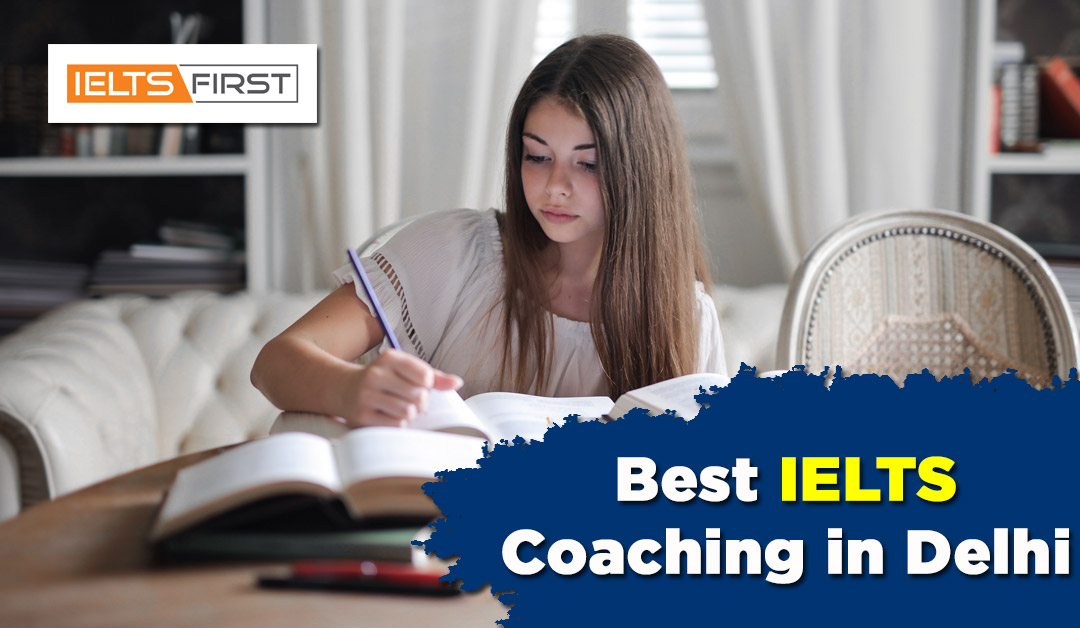 Why choose us?
IELTS First is the Top Rated Institute
We aim to develop the student completely. Hence, we give training for all the four sections of IELTS, that is, reading, writing, listening, and speaking. All the courses and training are majorly crafted to make you shine in your exam. Mastering all the four sections will help you gain good pointer.
Thousands of students have joined our institute and have passed the exam with flying colors. If you feel confused come down to our office to discuss more IELTS and quench your doubts.
High Quality Video Lectures
Anytime, anywhere Learning
Reading
Introduction to Reading section.
Improving reading speed and comprehension.
Annotation Strategy for improving accuracy.
Decoding True/False/Not Given questions.
Tackling completion type questions.
Mastering matching type questions.
Reading Practice Tests Evaluation and Discussion.
Grammar lessons and drills on weak areas.
Listening
Detailed analysis of Listening test pattern.
Listening test taking strategies.
Tackling with distractors in listening test.
Improving listening speed with Native english accent.
Developing Paraphrasing skills for listening section.
Solving Table completion Questions.
Practise tests on listening section, with analysis and discussion.
Grammar lessons and Drills on weak areas.
Speaking
Introduction to speaking section.
Strategies for task 1.
Strategies for task 2.
Strategies for task 3.
Phrases, vocab and idioms for task 1.
Phrases, vocab and idioms for task 2.
Phrases, vocab and idioms for task 3.
15+ mock speaking sessions.
Grammar lessons and Drills on weak areas.
Writing
Introduction to IELTS writing tasks.
Understanding Task 1 – Summary/Report writing.
Report writing for Bar/Pie/Line and process diagrams.
Vocabulary and Idioms for Summary/Report writing.
Understanding Writing Task 2 – Component of a good essay.
Types of Essays – Argumentative, Opinion-based, Cause-effect etc.
Ideation, Brainstorming and writing essay flows.
PEE technique for improving coherence and cohesion.
Special techniques for impactful writing.
Special Grammar and vocabulary for Essay writing.
Writing Task 1 mocks and Evaluation.
Essay Writing mocks, Evaluation and Discussion.
Grammar lessons and Drills on weak areas.
Idioms for people.
Idioms for places.
Idioms for habits.
Idioms for plans.
Idioms about experience.
Idioms for objects.
If you are looking to settle down abroad, you need to take the right preparation. These days, it's not enough to master your subject but also upgrade your skill in communicative English. This is why the demand for IELTS training is gradually rising among the aspirants.
If you are looking for the best IELTS Coaching in Delhi, you will come across numerous IELTS Coaching Centre. However, not all of them are on par to deliver the best results. For that, you have to rely only on the masters. IELTS First has become a popular choice among many students and job aspirants due to its success records. Our students have successfully obtained a foreign visa and are studying abroad or pursuing attractive professions.
Before proceeding to underline the highlights of IELTS First, let's quickly address the process of our IELTS Training in Delhi for your better understanding.
IELTS Exams
The duration of the exam is 2 hours 45 minutes. You have to finish your paper within the stipulated time. The exam is divided into four distinct parts. Let's take a deeper look at these to understand the pattern. It will help you to plan your strategy and obtain success in the long run.
• Reading – it has three sections – it takes 60 minutes
• Listening – it has four sections – it takes 30 minutes
• Speaking – it has three sections – it takes 11 to 14 minutes
• Writing – it has two tasks – it takes 60 minutes.
Your score will be measured on a scale of 0-9. The score you get in each segment (speaking, listening, reading, and writing) will be added to the final score.
Remember, IELTS is more of a comprehensive test. Therefore, strategic planning is crucial to it.
Why IELTS First?
IELTS First is considered the best IELTS Online coaching institutes in Delhi. We give minute attention to each of our students and help them to overcome the hurdles.
We employ experienced IELTS trainers to deliver the best results. We encourage you to improve your weaknesses all the while sharpening your strengths.
The success at IELTS exam coaching, as we already mentioned, depends on how much strategic you are. If you are good at writing but your verbal communication is compromised, your final score will not be high. On the other hand, if you are amazing at speaking but cannot comprehend most of the words in a native English accent, it will negatively impact your final score.
With a promise to deliver the best IELTS coaching in Delhi, we ensure that all the segments are taken care of. You can witness the improvement with time. Our students have found great results on enrolling at IELTS First and we have the confidence to bring the best in you.
How to join us?
You can simply register at our portal by filling the form. You can also connect with us over email and contact number. We will guide you through the process.
If you are looking for the best IELTS preparation course in Delhi, look no further. Join us and upgrade your skill. Contact us today.
What our past students say
Myself got a good score in IELTS and also got joining letter from one of the reputed universities in the USA.
Thanks IELTS First coaching institute for helping me to get into the best university.
IELTS First Coaching is A superb institution with highly talented faculty.
They helped me to achieve my best IELTS band 8.0. Thank you So much.
It was my privilege that I got IELTS coaching from IELTS First Institute.
Their classes, faculty and study materials are sufficient to get an excellent IELTS score.
What type of learning experience should I expect?
The content will be a mix of interactive video lectures, reading material, practice quizzes and mock tests along with daily private sessions with your trainer.
Can I get a trial class to understand your teaching style?
How is this course different from other courses?
This course starts with a thorough diagnosis of your current English Language skills and IELTS Exam readiness assessment.
This assessment is conducted/analysed by a senior trainer who defines a roadmap for you to get your desired band in 1 attempt.
Based on the analysis of your strengths and weaknesses done by the senior trainer you are allotted multiple trainers who will work with on your areas for improvement.
Your Senior Trainer evaluates your performance every week. Based on your progress, your Senior trainer, along with the other trainers, will customize your study plan for sustained improvement
After sufficient language improvement, you are directed to IELTS specific training
In the end you are put on a rigorous mock test routine
Once you start scoring your desired bands in our internal IELTS Mock Tests you are ready to pick an exam date
How long are the personal training sessions?
Each personal training session is of a total duration of 1 hour.
Do you provide Online and Offline Coaching as well?
Yes, IELTS First Institute provides both online and offline coaching classes. Our location is in Rohini Sector-8 Near M2K Cinema.
Why you are the Best IELTS Coaching Institute in Delhi?
IELTS First has the highest success rate in the IELTS Exam. Our trained students get 8+ band score in IELTS Text, we provide free mock tests and study materials to our students, that's why we are the Best IELTS Coaching in Delhi.
Best IELTS Coaching in Delhi